Thank you!
Well folks...in these parts of Franklin Township in historical Murrysville of  Westmoreland Co., PA, we would like to think that the MHPS has held some mighty fine history events!  Not to say we did not have our glitches at each one, but what a day these all have been in the end. With the support of Ben Sampson for use of the Sampson/Clark Toll House Ground, our major sponsors, members, and guests the local history of Murrysville/MHPS and Export/EHC becomes a living, intergenerational, interactive, multicultural, educational, hands on, tasty historical experience each year!  From the MHPS, and EHC to the event participants, sponsors, organization members, and visitors from surrounding areas...we send outta resounding "Thank you!"
We want to thank all of our donors, members, and guests who help to make each event successful and fun for all who attend!!!
WE CANNOT DO THIS WITHOUT YOUR SUPPORT!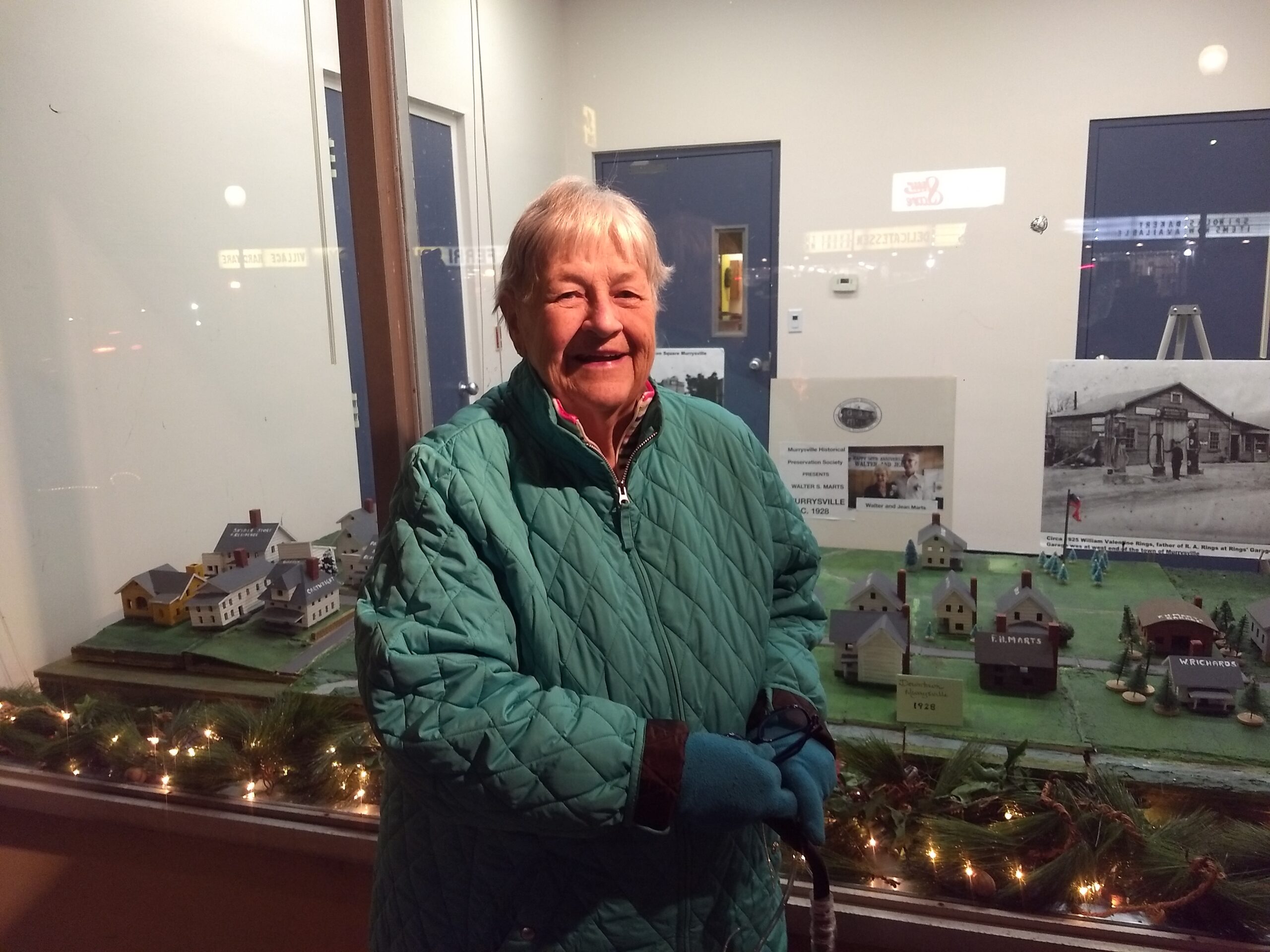 Linda Marts in front of her father's diorama...
March 26 - Grand Opening for the Marts Diorama, 1-4pm, at The Annex in Town Square next to the Methodist Church. The Marts Diorama was constructed in 1979 by Walter S. Marts depicting the Murrysville center of town circa 1928.
Through the years, the diorama had been on periodic public display but had since been in storage for decades. We have refreshed the display and invite everyone to visit! There will also be books and other Historical Society merchandise available for purchase, cash or check only please.
We hope that you will join the festivities! The display is also available anytime through the window at the Annex.
Jeremiah Murry - Bicentennial Year
Celebrate over 200 years of local history on September 12 ,  2020  at Heritage event on site of Sampson/Clark log Toll House grounds.  Visit the currently  under construction Clark School House.  Take your seat as School Marm, Suzette LaFleur , brings the 1800's school house to life.
Clark School House Opening
2020 - Since current conditions have made is necessary to postpone the official opening of the Sampson/Clark School House, the Rotary Club recently held their meeting in the pavilion on the property and were invited into the school to experience a short sample of what the Murrysville Historical Society plans are for future events.
Sampson/Clark School House Opening Postponement
2020 - Since current conditions have made is necessary to postpone the official opening of the Sampson/Clark School House, the Rotary Club recently held their meeting in the pavilion on the property and were invited into the school to experience a short sample of what the Murrysville Historical Society plans are for future events.
Carelton Young
Date of event:  November 18, 2019...Murrysville Community Center...presenter Carleton Young..historian/educator/author.  73 attendees listened to letters found attic of father's home re: Civil War ancestors letters home to parents living in Vermont.
Heritage Festival 2018
SEPTEMBER 15, 2018/11 am to 5 PM - 8th annual Historical Event: 1750-1820 Reenactment "Gateways to Westmoreland Indian Trails to Turnpike"
A Veterans Day Rememberance
A Veteran's Day Remembrance....   On Monday, November 16th  WWII  Veteran Joe Folino, age 93, from the Hempfield - Jeannette area of Westmoreland County presented his experience during the Battle of the Bulge.  Joe was a gunner in a tank division and kept all focused on his informal delivery and display of memorabilia.
Location: Murrysville Senior Citizen Center, 3091 Carson Street, Murrysville, PA 15668
WWII Veteran, Art Staymates, is returning to Murrysville on Monday, November 10th to speak on his WWII experiences at Normandy Beach and Nuremberg.  Joe Folino, also a WWII Vet will be speaking as well.  Monday's event will take place at the Franklin Regional High School auditorium at 7:30 p.m. Happy Veteran's Day to all who served!
MHPS welcomed Arts Staymates, WWII Veteran of Omaha Beach and Nuremberg, at Monday evening meeting.  In the Community Center room of almost 100 attendees, Art spoke of his personal wartime experiences of fear, enduring strength,  cold, wetness, fatigue and of finding the one true love of his life. Thank you, Art for your service, your courage and your unwavering lifelong patriotic convictions.
18th Century Woman Tea
Local Roots partners with Murrysville Community Library in hosting a Tea with a presentation of 18th Century Woman.  MHPS members participating included Sharon Parker, Suellen Watt, Linda Benson, Anna Pinto and Carol Intrieri.  Suellen Watt honors Anna Pinto for participation in first Tea.
We wish to express much gratitude to all who made Heritage Festival 2015 an enjoyable historical community event...participants for sharing their time and talents, financially contributed or donated in kind donations and of course, to al those who visited the festival grounds.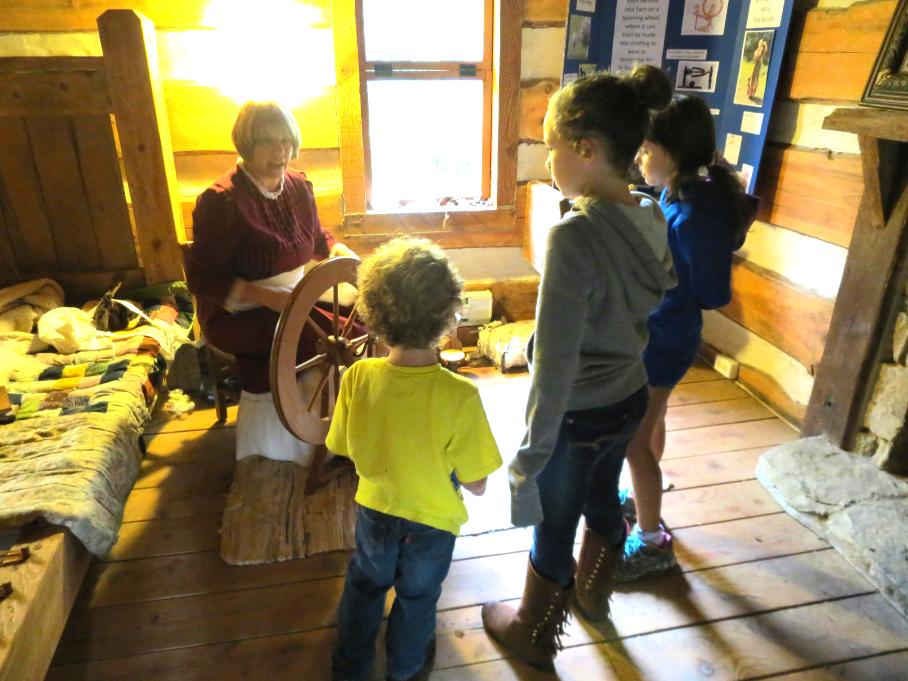 Life of the 18th C. Woman
Murrysville Historical Preservation Society hosted Life of the 18th C. Woman with Sharon Parker, Lee Washlaski, Autumn and Lela Auer presenting.  Suellen Watt, MHPS member, greets members/guests playing auto harp.  Lots of hands on experience provided.   Great info on simple dress styles and purposes of garments, daily life activities, commonly prepared foods, common cooking utensils, hand carved gourds utilized as food containers, matriarchal society of Native Americans, MHPS memorabilia depicting 18th C. Murrysville life and 1700s Time Line.  Simple refreshments offered including assorted teas, lemon flavored water andhomemade sweet treats were enjoyed by all. Depreciation Lands Museum, Allison Park, PA.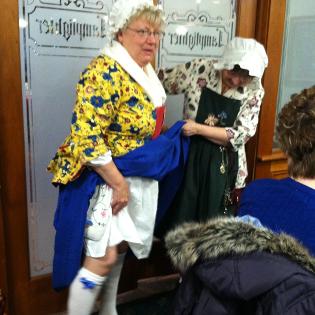 Sharon Parker in her handmadefinest!  One of three presenters for the Monday, March 16th MHPS meeting!
Depreciation Lands Museum Trip
Today I received an email from Karen Parsons at DLM ie. Depreciation Land Museum in Allison Park, PA. If you have not been there plan for yourself a living interactive historical experience! Don't go for your kids or grandkids...go for yourself! Check out their event agenda at: DepreciationLandsMuseum.org and on Facebook. You historians/re-enactors will be inspired! Bring the DLM energy back to your own communities and keep yesterday's history alive for today and generations of tomorrows!
Location: Depreciation Lands Museum, Allison Park,PA
"A Village Where History is Real Life"
Event:  Children's Doll Tea
MHPS members participating: Carol and Jackie
Kudos to DLM for the outstanding 1700s Period venue of diverse events, reenactments, activities and support to historically minded and other historical societies in the Greater Pittsburgh area.  For more info view online at DepreciationLandsMuseum.org and on Facebook at Depreciation Lands Museum.  Explore, learn, be inspired and support local history initiatives wherever you are!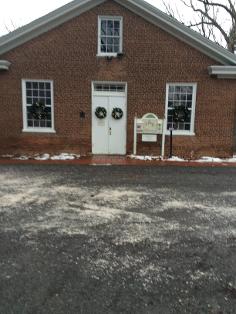 On Thursday, January 15th, the MHPS Local Roots Productions presented "An Afternoon in School with Mademoiselle Suzette" for the Murrysville Women's Club luncheon/meeting at the Lamplighter Restaurant in Delmont. Present were Carol Intrieri, Suellen Watt, Regina Ranieri and Sharon Parker. Carol introduced the presenters and spoke of the importance of local history support to all communities.  Local history is what gives each community its unique identity and can set the direction for future cohesive community development.
Suellen presented as Suzette, an Indentured French Canadian School Marm seeking to find a husband in Western PA.  Student expectations and duties were explained.  All practiced their letters and numbers using a hornbill and slate board then sang Yankee Doodle accompanied by Suzette on her auto harp.  MWC/MHPS member, Lane Neff, failed to write on her slate board and was reprimanded by wearing the Dunce cap for 5 minutes.
Period French attire of the late 1700's handmade by Sharon was explained. Regina, as a student (not pictured) gave an informative local history report on the Sardis Road Rugh Family Stone Mansion, c.  late 1700's, and the kidnap of the Rugh's by the Seneca.  Regina and husband, Vito, currently inhabit the Rugh House and appreciate its historical significance to the Murrysville  community.
Heritage Festival 2014
IN ADDITION, WE THANK ALL SUPPORTERS/DONORS TO HERITAGE FESTIVAL 2014 INCLUDING:
Peoples Natural Gas Co., Brooks Family Foundation,S&T Bank,
Panichelle Financial Group, LLC, North park Lounge - Murrysville,
George and Joan Kotjarapoglus, Remaley Insurance, Dunkin'Donuts
- Murrysville, Ferri Grocery and Ferri Pharmacy, Andrew Maxwell
- Rivertown Brewery, Pasqualino's Italian Eatery-Dom Pasqualino, Murrysville,
Ali's Marketplace and Gluten Free Zone soon to open in Blue Spruce Shops,
TCBY, Jeffery Lockard - Murrysville, The Olive Merchant - Elaine Schweikarth,
380 Auction Barn - Jim Beacom II, Giant Eagle - Murrysville, Lou Biesuz, Artman Kubota,
Weister Insurance Agancy, Karen Ferri, Esq., and Erie Insurance  - Sotak Insurance Agency, Mail and Copy Plus, Gearhard Bicentennial Farms,
Murrysville Parks and Rec./ Maintenance and Signs of Excellence.
If I missed a name, I apologize.  Jackie will correct me!  And, If you missed us this year...not to worry!  God willing and the Creek don't rise, we will do it again in 2015!  It is not too early to send in donations for Heritge Festival 2015! 
Lastly, gotta thank all who participated!  You were awesome! Could not do this without you! Your time, talents and skills are much appreciated!  To Boy Scout Troop 208, Girl Scout Troops 22126, 22123, Venturing Crew, Brian Lapay, Carol and Tom Lighthall, Salem Antiquities, Gayle Wertz, Fred Threfell, Drew Decrease, Tim Bulkovac - Applewood Cookery, Dan and Cathy Kernen, Scott Kelsey,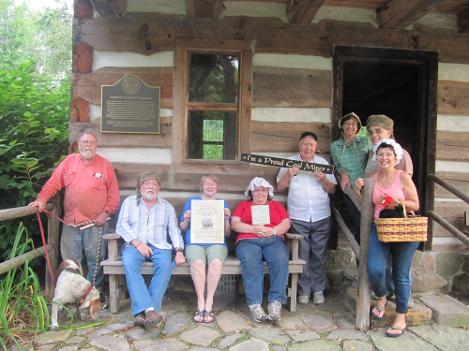 Heritage Festival 2014 Committee present from left to right: Carl and Snoopy, Jim, Patty, Alice, Ed Regina, Vito and Carol holding Henrietta bid you good tidings!  Come to the historical festival and be proud of our local history!